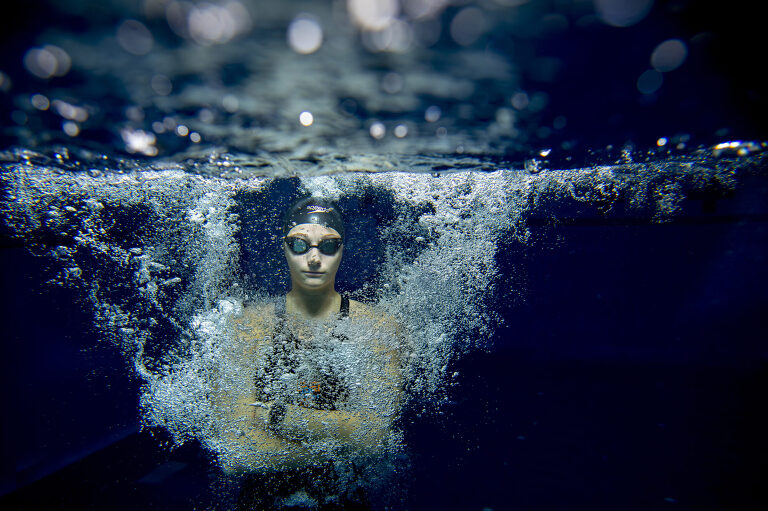 Last fall, I was tasked with creating images of Maddy Banic. She overcame the depths of depression to lead the UT swim team to a national championship, and become an advocate for the mental health of student-athletes.
From the beginning, we knew this was going to be a cover story for our Accolades magazine. That meant we needed to produce both portraits and illustrative images for a cover, an opening double-truck, and a few fillers. Marcus started a Pinterest board for the group to gather examples of different moods to discuss and create a storyboard.
This photoshoot is a prime example of what happens when I collaborate with staff like writer Brian Canever, art director and graphic designer Marcus Williamson, and editor Cassandra Sproles. Insert a fantastic subject like Maddy, and it is easy to see why this was my favorite shoot of the 2019-2020 school year.
On the day of the photoshoot, everyone came together as a team. As I shot, Marcus was reviewing my images on an iPad via Canon Connect. Cassandra was helping as a lighting assistant. Both were there to keep me on track with what photos we needed to capture.
It wouldn't be a typical photoshoot unless something went wrong. When I got in the pool and started to shoot, the transmitter to my strobes stopped working. Here was a big, "Oh, crap moment." Most of our shots were supposed to be in the pool. After a few quick tests, I found that everything worked correctly if I just dipped the lens underwater but not the strobe's transmitter. In the long run, this was a bonus. Now I could float on top of the water instead of continually diving to the bottom of the pool.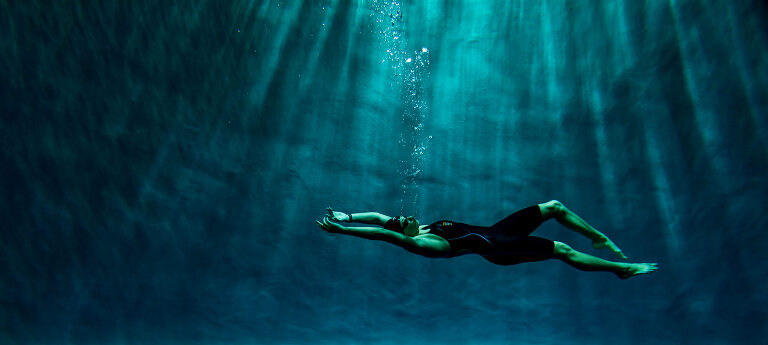 We wanted an abyss vibe to illustrate the helplessness feeling of depression. Instead of using the depth of the pool for the background, I decided to shoot against the pool wall. The softbox was giving me a flat light. I wanted more of a dramatic feel, so I exchanged it with a silver reflector. This hard light gave me specular streaks along the wall exactly as I wanted. There were tiles and markings on the pool wall that made it feel less like an Abyss. That bugged me! To avoid the markings, I had Maddy float around 6-8 feet under the surface and come up for air when she needed it. During this process, I noticed what would become the hero image of the photoshoot.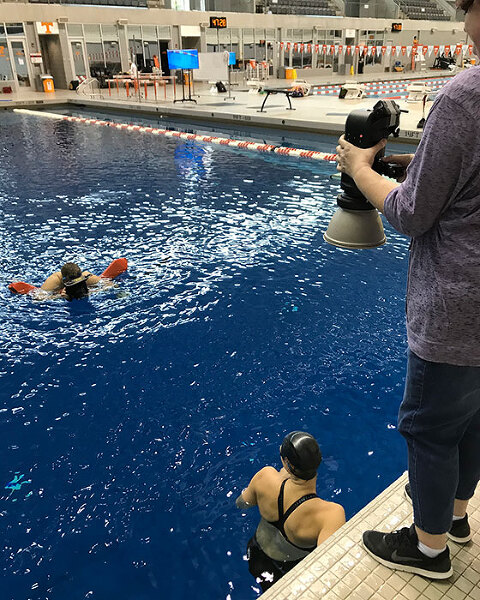 What better way to represent overcoming depression than having Maddy swim out of an abyss and reaching upward for the light. To accomplish this shot, I had Maddy stand on the edge of the pool between the lane markers that I had been avoiding earlier. She would take a big step into the water, sink down and swim back up with one outstretched arm. Meanwhile, Cassandra would be behind her and step forward towards the edge of the pool with a Flashpoint Explorer 600 and reflector pointed down towards the water. This image ended up being the cover photo.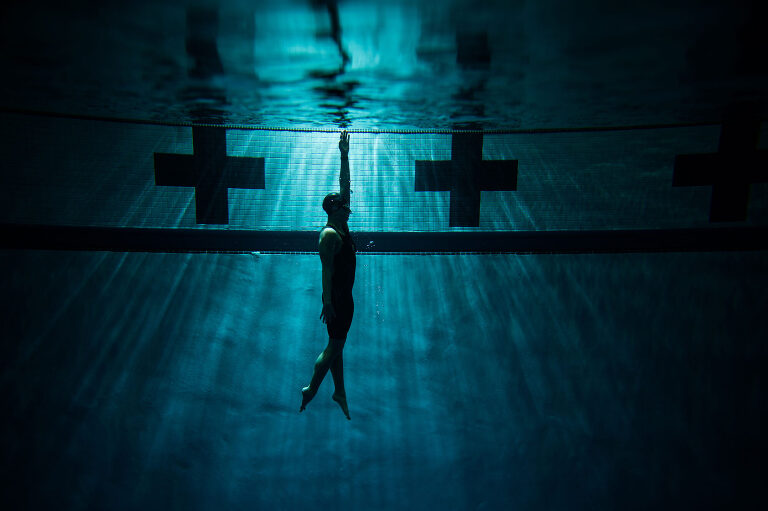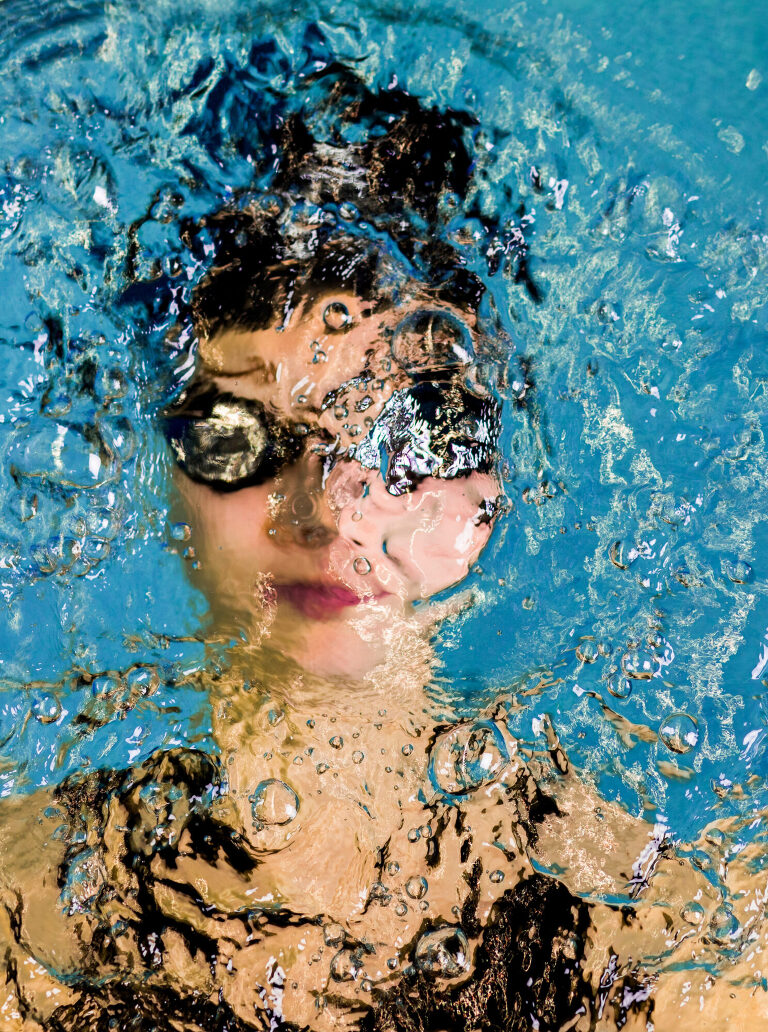 For our next image, I wanted a shot of Maddy's face just under a transparent sheet of water staring at the viewer. Unfortunately, the pool had other plans. The water was rough and throwing back all kinds of unwanted reflections. I took less than ten frames of this setup and declared it a bust. Since we were already behind on our schedule, I decided to move on.
Once back at the office, a co-worker was reviewing my shoot. He pointed out this image as his favorite image. He loved its abstract feel. I was like really?! This is your favorite image? The more I worked on my edit, the photo grew on me. In the end, it made my final selects of the shoot.
For the second half of our session, we moved out of the water and into a storage area where I had created a makeshift studio to capture two specific looks that we needed.
On both of these looks, I used a traditional three-light set up with a black background. The main light was a Flashpoint AD 200 inside a Chimera Super Pro Plus shallow softbox and on a boom. Then two more Flashpoint AD 200 with grids and barn doors to control their spill and rim light my subject.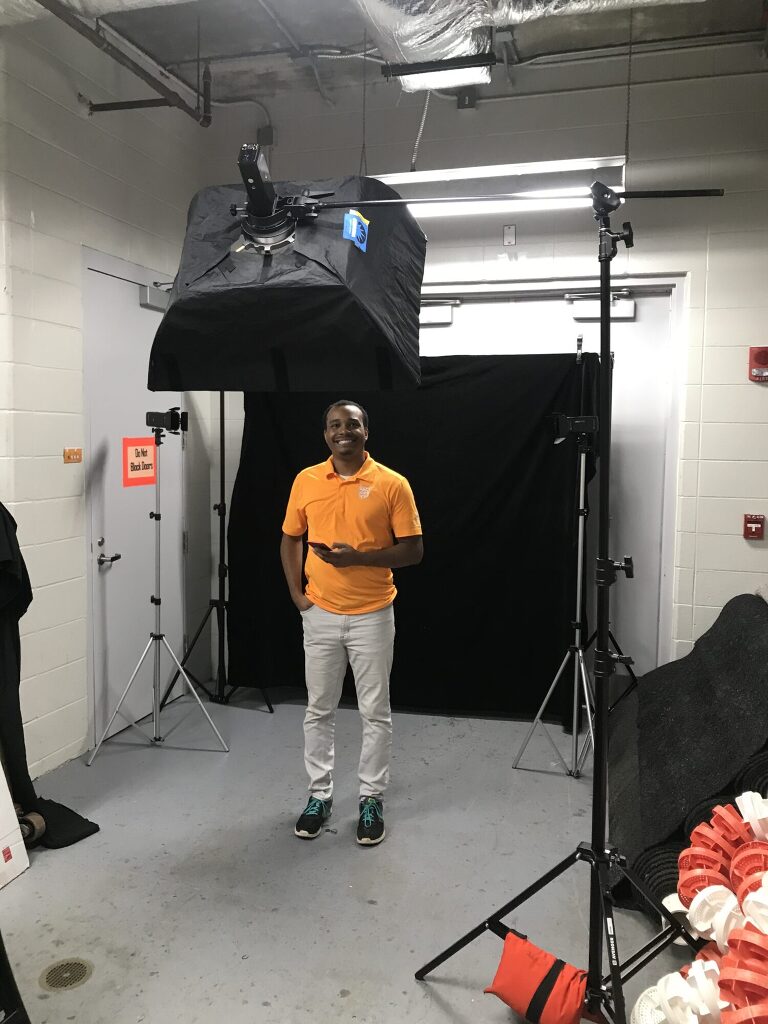 My first goal would be to capture an image with multiple faces in one frame to illustrate someone's internal anxiety. To make this photo, I left the shutter open for six seconds. During each exposure, I had Maddy move her head around and change expressions as I popped a flash.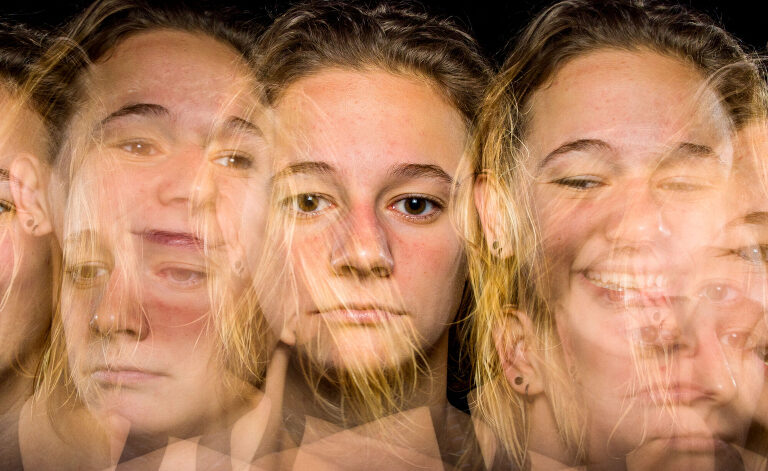 Again, the lighting setup stayed the same between both of my studio shots. We also wanted to show the bright and happy side of her story. So in the shot list, we included Maddy in her iconic coonskin cap. It is an honor presented by UT Swim and Dive Teams that earn the right by performing in a manner worthy of being called a team. Maddy received hers after winning Tennessee's fourth NCAA relay title and her first national title.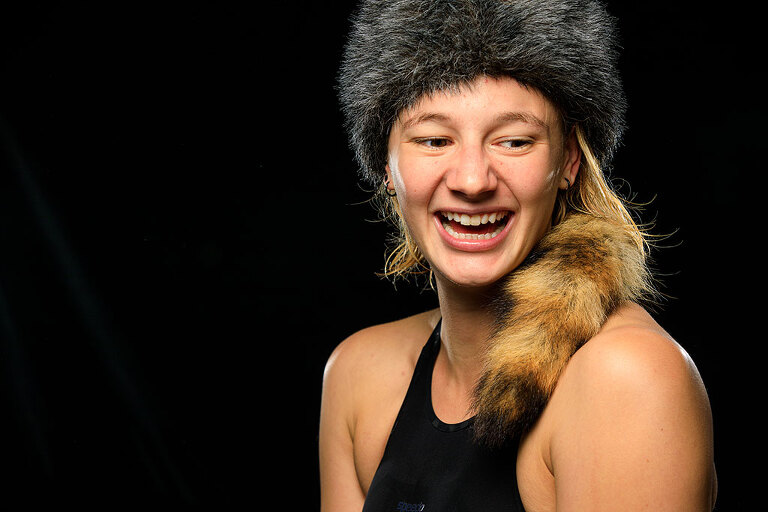 A quick switch of the coonskin cap with a swimmer cap and goggles, and we were back in athlete mode. I used spray bottles wet down Maddy and create a wall of mist behind her for effect. The hardest part of this portrait is that Maddy is such a happy person. She is one of those people that it is more natural for her to laugh and smile. It took a lot of concentration to create this look.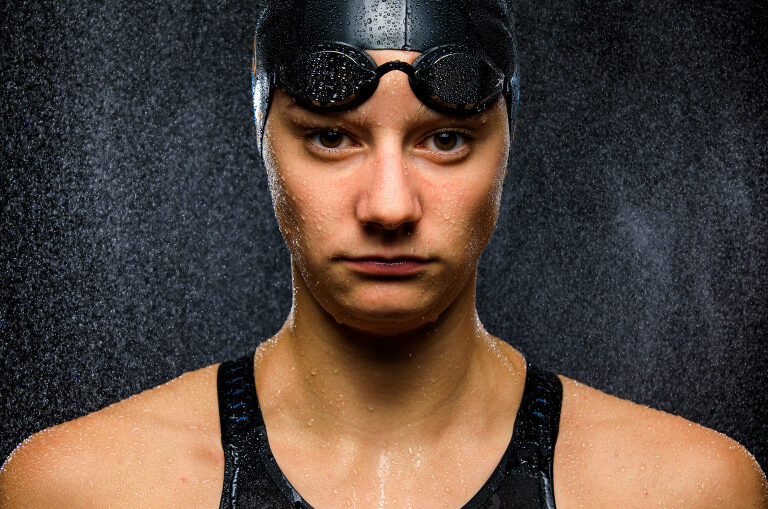 To see the whole story online, check out the Torchbearer article.