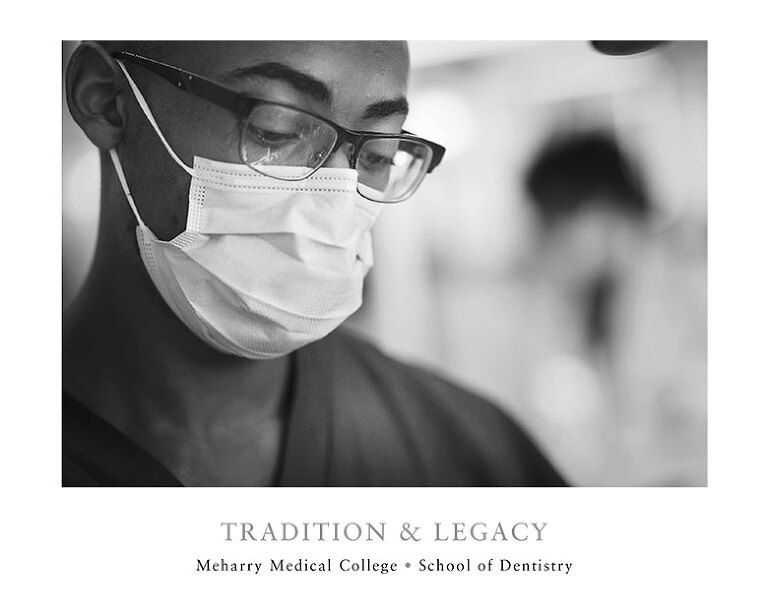 Of all the Nashville photographers, the School of Dentistry at Meharry Medical College called me to create the photographs for their end of the year report. The concept of their annual report was to be simple and real. My job was to capture the school's motto "Worship of God Through Service to Mankind," with lifestyle photography from the classrooms to the clinic, along with a set of headshots. As always with Meharry, and most higher education photography, we would be using real students, professors, and the patients that they serve. All of the photos would be black and white and presented in the annual report with a very clean design.






A while back I began showing behind the scenes photos on my Instagram account. I always do my best to make photos that are clean. When looking at those photographs in print, the viewer does not see the multitude of things going on just outside of my lens. I thought it would be interesting to share a few of those behind the scenes photographs on the blog and reveal what goes into making my images. Thanks to my assistant Damian, I have a couple of photos I can share with you from this assignment.
First is what it looked like when I was making the picture for the back cover of the annual report, which happens to be just above this text. We were working in a live educational lab being used by students. Cords and equipment were all across the lab, so they could not easily be removed. I resolved this by getting down low to avoid the clutter and layered the students and teacher to give the image depth.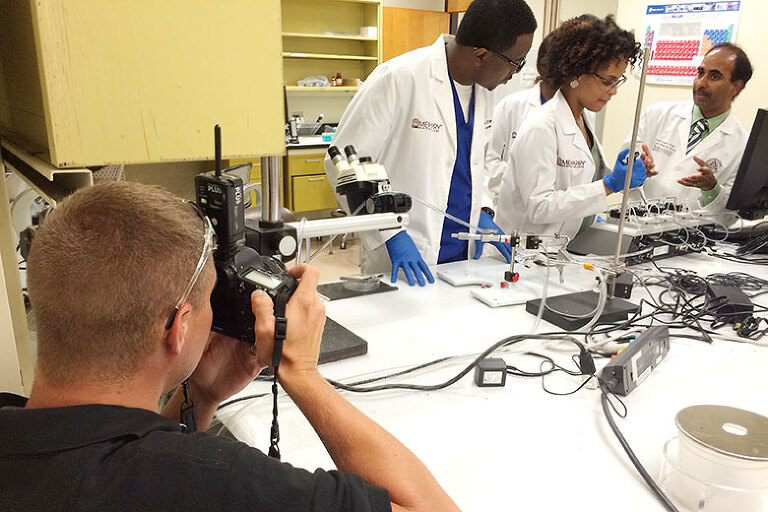 Talking to my assistant on the way home, he said the headshots I made were the most exciting part of the day for him. My task was to take real students and patients and make edgy headshots that had the same style but not uniformed. Being on location, I had no official studio space. I had to find a place close to where we were working and was easily accessible to the patients. On the way into the building, I noticed the hallway had an extra wide area not far from the door. I decided to have everyone meet there. We would have to deal with traffic moving through the hall, but our footprint would be small, so that wasn't a big deal. To keep that small footprint, I used a small a speedlite inside Chimera Maxi on a small stand. It is very easy to move and creates perfect light for the look we wanted. By the time we finished, I had photographed ten different people with a variation of lighting setups for each individual.